Tanusha M. - June 15 2022 (Updated 2023)
Collagen for Menopause (and how it affects our body)
Table of Content
- What is Collagen?
- Symptoms of Menopause
- 4 Ways Collagen Supplement Can Relieve Symptoms of Menopause for Women
- KEYYES MCT Collagen Peptide
What is Collagen?
Collagen makes up 75%-80%of our skin, which directly supports our skin, bone, tendons and muscle structures. Hence it's known to be the 'glue' that holds our body together.

As we age, our body naturally produces less of this protein from as early as from our 20s. When we reach the age of 50, the collagen level in our body is basically left with only half.
The destruction of collagen has a major contribution to the loss of elasticity and fullness of our skin — which results in what we like to call "SIGNS OF AGEING", such as forming of fine lines on our skin or muscle sores that linger after a workout.

More and more wrinkles would be visible on our face which would appear dry and dull; while joints may start to creak and crackle and negatively affect our everyday movements.
Understanding Menopause and Symptoms of Menopause
Menopause typically starts around age 51, usually a year after a woman's last period.It marks the end of a woman's menstrual cycle and fertility.
Symptoms of menopause include:
- Hormone changes
- Mood swings
- Lower sex drive
- Hot flashes
- Vaginal dryness and soreness
- Trouble sleeping
- Night sweats
- Hair and skin become drier and thinner
How Does Collagen Effect Skin Elasticity During Menopause?
On top of going through the challenging symptoms of menopause, women are faced with accelerated collagen loss! A gruelling 30% of skin collagen is lost in the first 5 years after menopause!

Leading to diminished skin elasticity and strength, combined with loss of hydration and hormonal changes, women are seen to have more visible sagging, fine lines and wrinkles.
"30% of skin collagen is lost in the first 5 years after menopause. Which leads to more visible sagging, fine lines and wrinkles.."
Click here for KEYYES Collagen
Correlation Between Collagen & Estrogen (For Joint & Bone Health)
Studies have consistently shown a positive correlation between collagen and estrogen levels. That means the more collagen you have, the more estrogen you're likely to have.

Estrogen is what protects joints and reduces inflammation and plays a critical role in skeletal growth and bone homeostasis. As estrogen levels drop, women would experience joint pain due to increased inflammation and loss in bone mineral density.

Similar to skin, the fastest rate of inflammation and bone loss is in the 4-8 years after menopause. And it continues declining about 2% with each additional year.
"The fastest rate of inflammation and bone loss is in the 4-8 years after menopause.. With a decline of 2% each additional year."
Click here for KEYYES Collagen
4 Ways Collagen Supplement Can Relieve Symptoms of Menopause for Women
Good news is there are a growing number of research and studies that have associated the positive benefit of consuming collagen supplement with menopause!
Let's explore the benefits of collagen for menopause symptoms:
1. Enhanced Skin Elasticity
With aging of skin being one of the most common concern for women going through menopause, it is important to note that collagen supplements have shown to have visible benefits to skin health and in directly with women confidence in general.

A 2015 study showed that a supplement containing collagen led to significant improvements in wrinkle depth, elasticity, and hydration of the skin in females aged 45-64.
2. Alleviates Joint Pain
The cause of joint pain is often attributed to the decrease in estrogen. Similarly to many of the above menopausal symptoms. Estrogen plays an important role in protecting our joints from inflammation, which heightens the risk of osteoporosis and osteoarthritis.

The result of this is painful joints and difficulties in joint movements. In this study we see the positive effect of taking collagen daily may improve joint pain caused by low estrogen.
3. Improved Bone Density
On top of joint pain, loss of bone density is also a significant risk factor of low collagen levels and estrogen deficiency, and a potential risk of osteoporosis in the future. Can you imagine, collagen makes up 90% of a bone!

One study analysed the positive effects of consuming 5g of collagen peptides daily by a group of postmenopausal women (with mean age of 63). The result showed significant improvements towards increased bone density and bone formation while reducing bone deterioration.
4. Increased Hair Volume and Slows Graying
Due to changes in hormones, women experiences hair thinning, hair loss and accelerate graying of hair during menopause.

Collagen makes up 70% of the dermis (the middle layer of skin with individual hair roots). Studies have shown that collagen supplements can significantly improve hair volume, thickness, shine and smoothness of hair.

Another study has also found that collagen's potent antioxidant properties has the ability to fight oxidative stress and show graying.
Rediscover Youth with KEYYES Collagen
Made with premium marine collagen peptides sourced from Japan 🇯🇵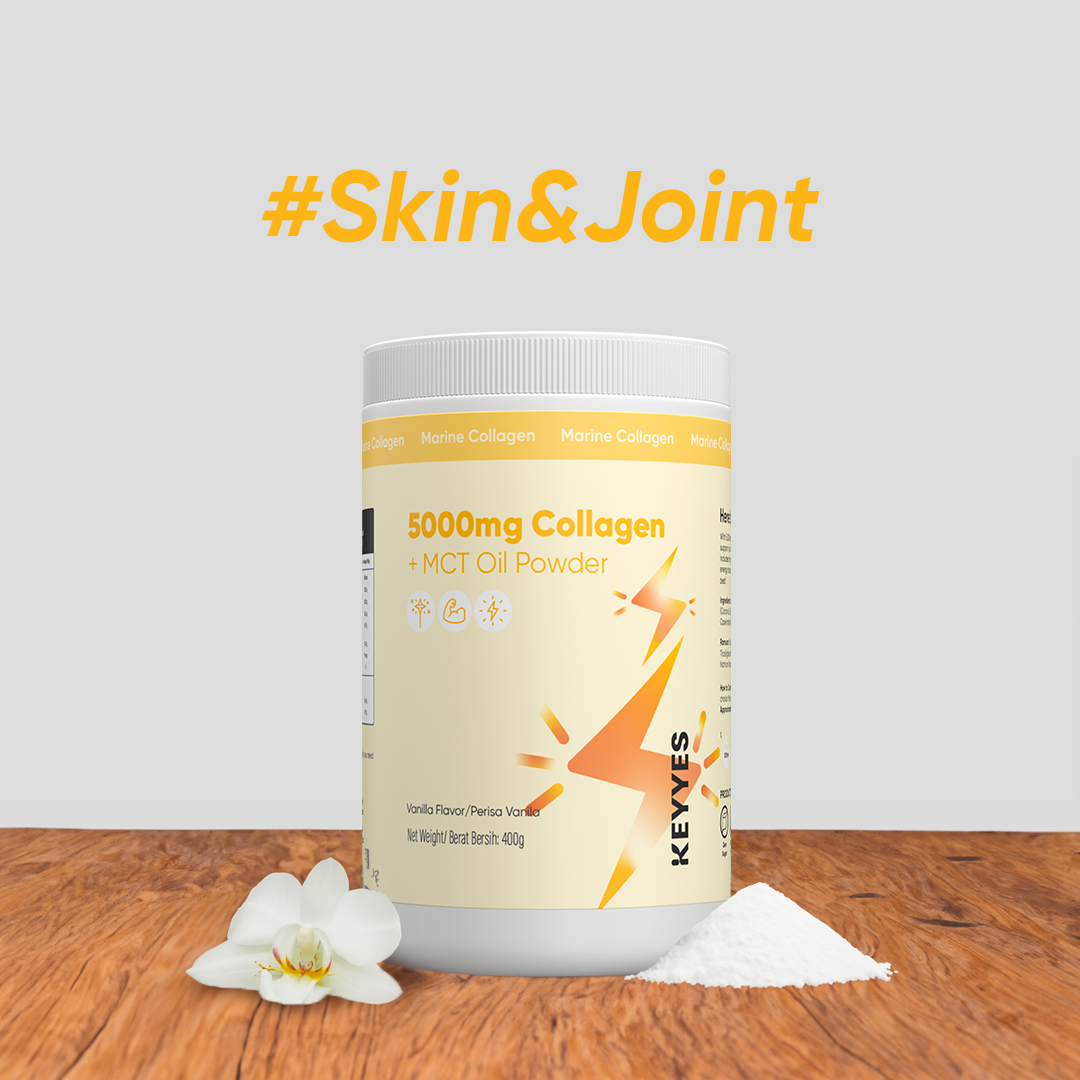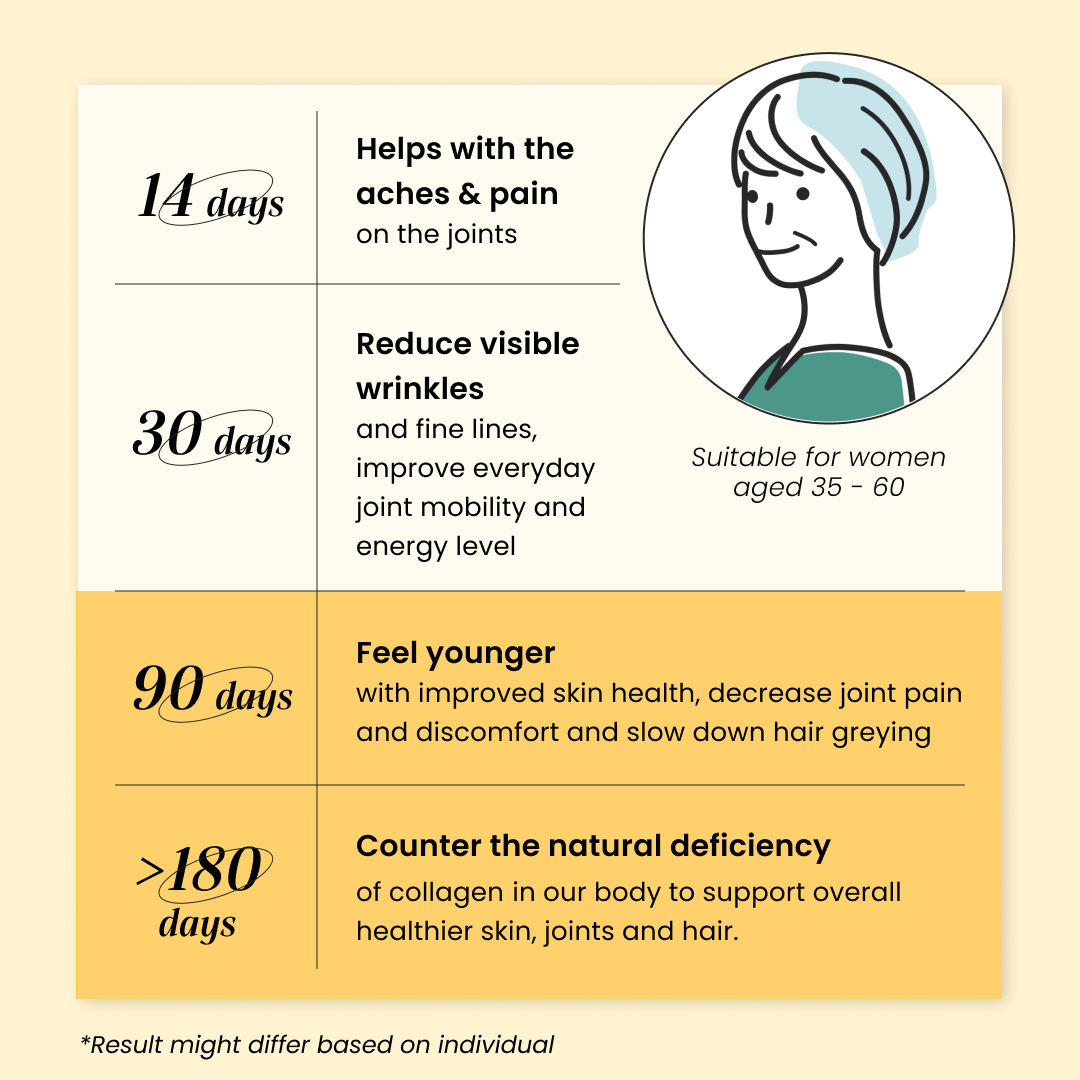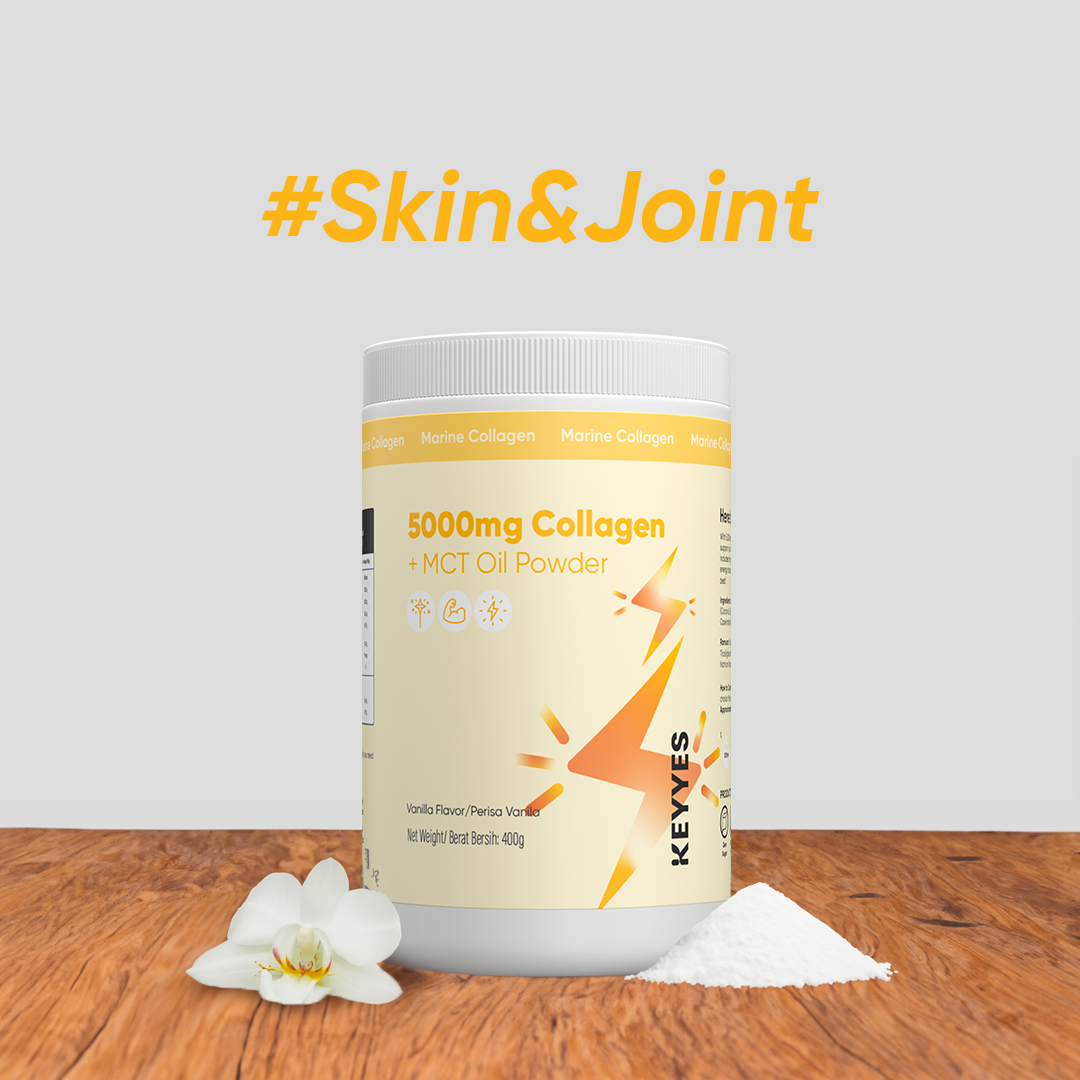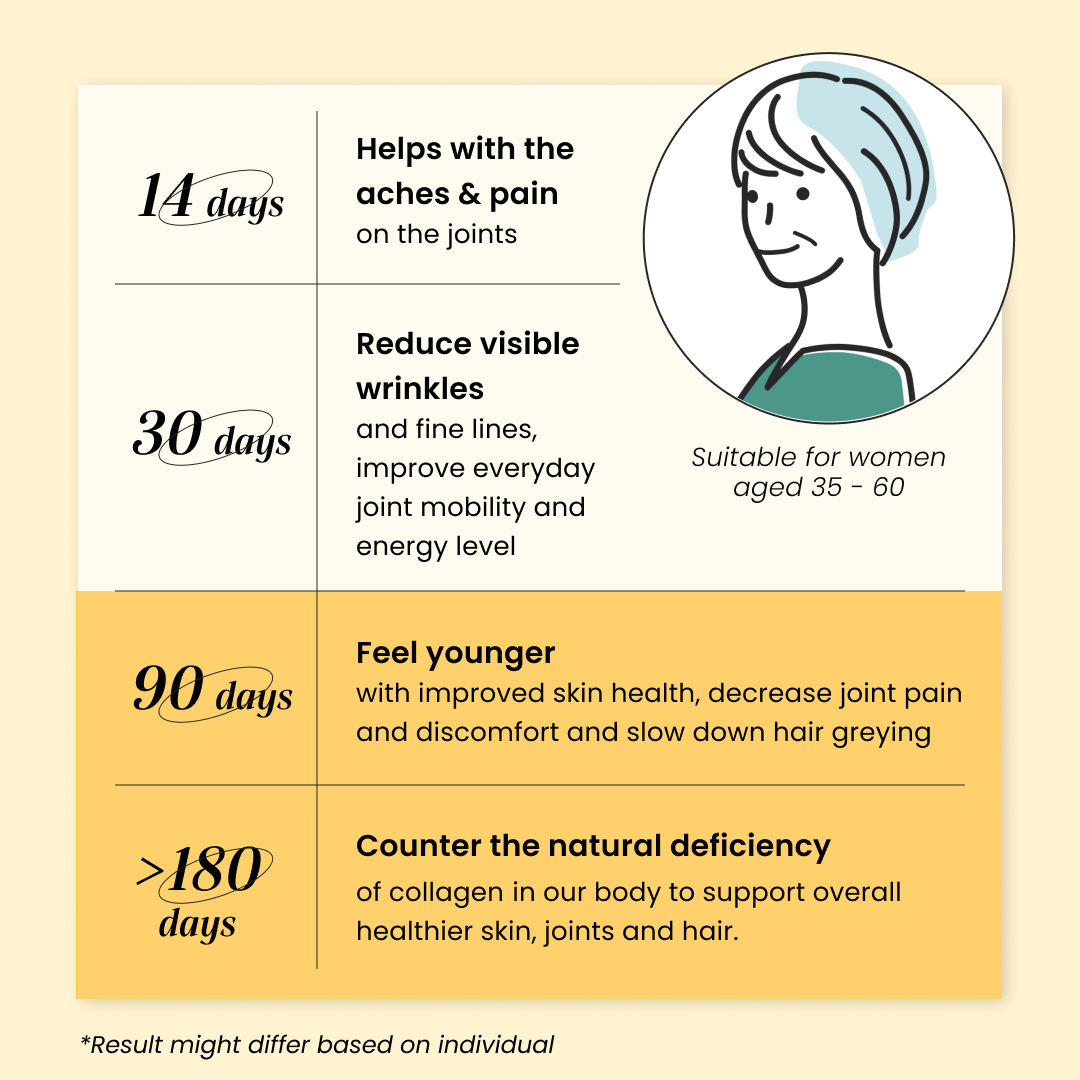 5000mg Collagen with MCT Oil
RM179.00 MYR
⏳Limited time offer!⏳
Enjoy 10%OFF with Code <WELCOME10> for first order
🚚 Free Delivery in Malaysia

Previously known as MCT Collagen Peptides (Fortify + Energy)

✔️ Premium Marine Collagen Peptides from Japan
✔️ Locally sourced MCT oil for energy and weight management
✔️ 5000mg of Type 1 collagen per serving
✔️ <1g net carb per serving (Low carb-friendly)
✔️ Zero Sugar
❌ No Steroids
✔️ Vanilla flavoured
✔️ Gluten & Cholesterol Free
✔️ Halal certified
⭐️5-Star Review from our Happy Customers!
⭐️⭐️⭐️⭐️⭐️
" I started consuming 3 months ago. First canister I saw the results in just 2 weeks! I'm 47 years old , very active life style but I struggle with losing fatson my lower abs. I suffer with sore muscles after every workout.

Tried the vanilla flavor keyyes and it worked like magic. Now I don't feel the muscle soreness as bad , my tummy has become smaller and my skin improved tremendously.

Now I'm on my 4th canister and will continue taking it bcos ofit's marvellous results on me. "
Nik Fara, age 47
⭐️⭐️⭐️⭐️⭐️
" I'm on my 6th purchase and loving everything about this product. I feel energetic, it has helped me tremendously in managing my pre-menopause symptoms. My skin has improved significantly too... definitely my must have in the morning"
Sharan Kaur, age NA
⭐️⭐️⭐️⭐️⭐️
"Just started the third container and can see the changes on my skin! More radiant. And most of my tummy flatten no more blotting since I when thru menopause."
Zaidah Yahya, age 55